China
CHINA – FUYU 1 BLOCK
On 12 November 2007, Kingworld Resources Limited ("KRL") entered into a petroleum production sharing contract ("PSC") with China National Petroleum Corporation ("CNPC") relating to the joint development and production of hydrocarbon resources in Fuyu 1 Block. KRL has the right to operate the assets and receive production and/or revenue from the sale of oil and gas in accordance with the PSC. RH Petrogas' acquisition of the entire issued share capital of Kingworld Resources Limited ("KRL") launches the Group's diversification into the oil and gas industry, with the aim to become the leading independent oil and gas company in the region.
Covering a total area of approximately 254.9 sq km, the Fuyu 1 Block is located south-east of the Fuyu oilfield in the Jilin province of northern PRC. This area forms part of the Songliao basin, a large intracratonic rift basin which is the largest petroleum producing region in the PRC.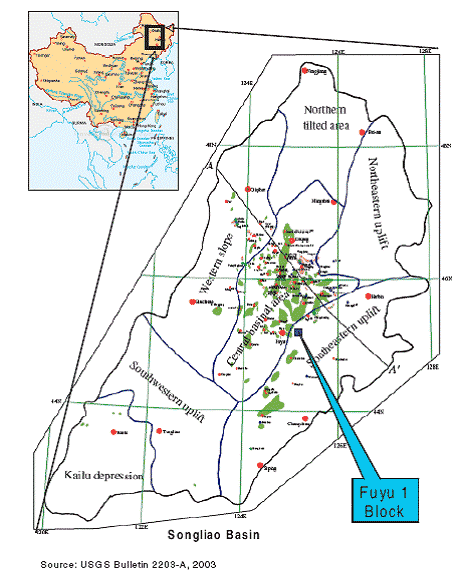 The Fuyu 1 Block was explored by CNPC in 1984. After the discovery of oil, the Fuyu 1 Block was not developed due to the nature of heavy oil, multiple thin reservoir sand layers, low oil saturation and the oilfield being compartmentalised by shale barriers and faults.
However, with advancements in technology, high oil prices, the relatively low cost of developing the shallow oil reservoir and the low cost of oil production in the PRC, the development and production of oil at the Fuyu 1 Block has potentially become more commercially viable, as compared to about 20 years ago.
To date, a total of 99 wells have been drilled by KRL at Fuyu 1 Block and log analysis has confirmed oil pay for most of these wells.
Once the Group obtains the approval for the Overall Development Programme, commercial production will commence.